The WBENC 2023 National Conference was nothing short of powerful, creating and spurring on MOMENTUM for women business owners, supplier diversity professionals, and key representatives of strategic partner organizations.
WBENC is incredibly proud and thankful to share this recap and key stats, including that 97.5% of attendees reported meeting valuable new connections. Read on to learn about (or, for many of us, relive!) one of the nation's most impactful business development conferences.
Connecting together at the 2023 WBENC National Conference in Nashville, TN, the network congregated at the Gaylord Opryland Resort and Convention Center, a massive panoramic spectacle of flora with natural light from the domed glass ceilings. With a great balance of work and fun, WBENC took advantage of dynamic interaction and innovation sharing over the course of four days in the expansive and beautiful resort and conference center.
WBENC again recognizes the National Conference Co-chairs, Bristol Myers Squibb, DuPont, EY, Nissan Group of the Americas, The ActOne Group, Ampcus Inc., CSS Building Services, and M. Davis & Sons, Inc., and all of our Conference Sponsor, speakers and attendees for their leadership and contributions to the future-forward sessions, networking, and celebrations that occurred over the four-day event.
Pre-Conference Sessions kicked off the week in a big way!
On Monday, March 20th, WBENC started strong by hosting the Women of Color Community Impact Outreach event "How to Monetize Your Network" and the first Women & Pride Community Outreach, "Elevating the LGBTQ+ Women's Business Community," packed and occupied by attendees and Nashville citizens alike. Pamela Prince-Eason, CEO and President of WBENC, kicked off both sessions to welcome all guests and encourage conversation and connection with one another. Both events featured highly acclaimed speakers and panelists who bestowed their wisdom and expertise among the masses, leaving attendees with food for thought and alacrity for the upcoming week.
At the Women of Color session, Emmy® Award Winning Speaker Bofta Yimam with StoryLede electrified the standing-room-only Women of Color audience. Concurrently, the first-ever Women and Pride Community Outreach event and showcase featured amazing panelists and WBEs educating and inspiring their audience with insights and progressive education.
The Women's Enterprise Forum gathered for a Forum strategy and networking meeting led by new 2023 Forum leaders, First Chair Peggy Del Fabbro, CEO of M. Davis, First Vice Chair Hannah Kain, CEO of ALOM, and Second Vice Chair Kelly Kolar, President & CEO of Kolar Design.  Then all were invited to hear an inspiring and candid talk from Marissa Badenhorst, vice president, Health, Safety and Environment with Chevron about mental well-being and safety and being able to bring your whole selves to your professional roles.
A Learn About WBENC session with all 14 Regional Partner Organizations (RPOs) was also a hit with newly Certified WBEs or interested women entrepreneurs, before all comingled at a reception all speakers, panelists, and guests!
DAY 1: The Official Conference Kick Off
On Tuesday, March 21, President & CEO Pamela Prince-Eason, WBENC Board Chair Nedra Dickson, and Immediate Past Chair Barbara Kubicki officially commenced the National Conference with an inspiring welcome at the Kickoff Luncheon & Networking by RPO. Chandra Vassar, Vice President and Chief Diversity Officer of Nissan Group of Americas, voiced the importance of supplier diversity throughout our network.
Our 2023 WBE Stars, honored for their resilience and leadership in recent years, were celebrated in style by their Regional Partner Organization (RPO) leaders and RPO Host Committee members.
Then everyone gathered for lunch with their RPO in the back of the ballroom, which was festively decorated and hosted by each RPO with a tower featuring their WBE Star, Host Commitee member and RPO logo, plus additional decor and accessories provided by the creative RPOs that kicked off a Conference-long color fest with signature RPO colors (more was to come on that for the Wednesday Night Event!).
2023 WBE Stars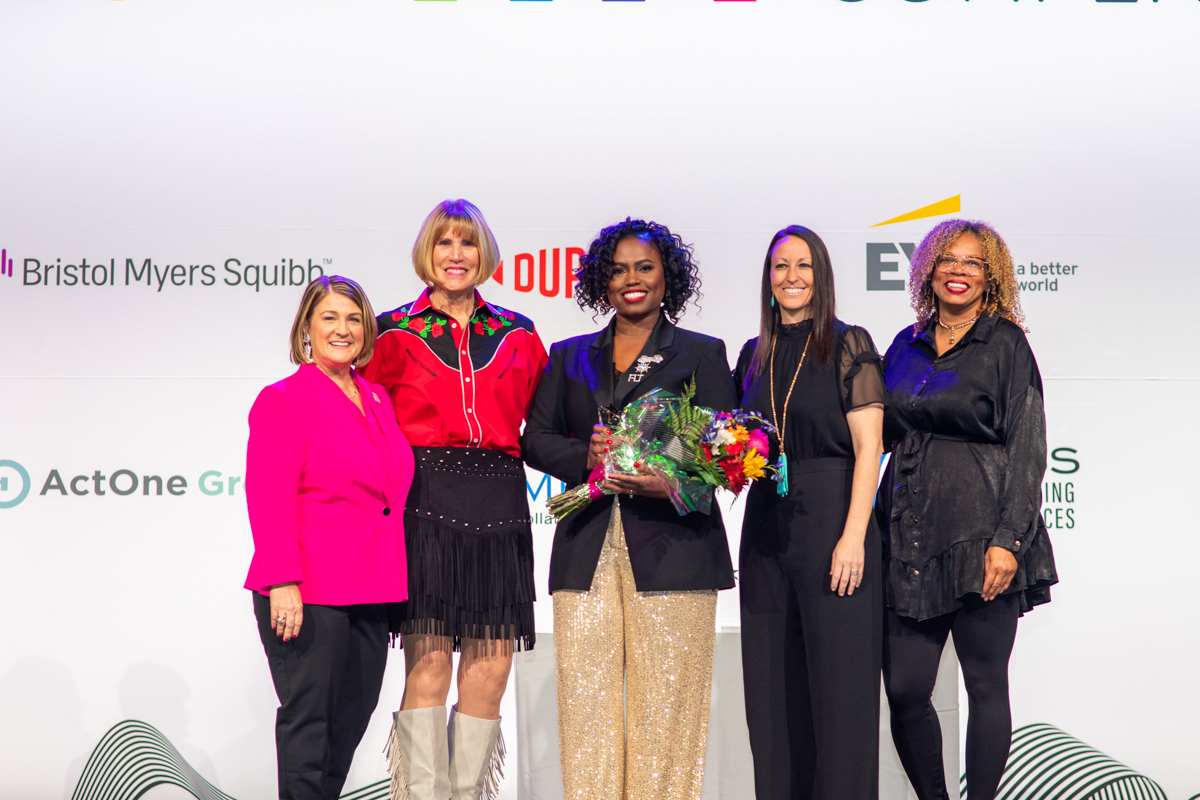 Industry Labs began right after the Kickoff General Session, with 26 sessions of industry-specific topics from lead experts occurred in rooms throughout the Ryman Hall at the Gaylord Opryland Convention Center. With more than 10 industry centers and groundbreaking speakers, innovative practices were highlighted in every room, and WBEs and corporate representatives alike left inspired and ready to learn more and get more involved.
After the enlightening sessions, everyone moved into Delta Island within the Gaylord for the Welcome Reception, which was filled with food, drinks, and networking surrounded by shops and restaurants within a mini town footprint also featuring gondola rides on a river circling the area.
Industry Labs
Day 2: Marvelous Meet & Greets and the Expo Opened!
Over Wednesday and Thursday, the 2023 National Conference also boasted the largest WBENC Meet & Greet ever, hosting over 1,200 WBEs and 208 corporations in a two-day networking event for WBEs and corporate members, which featured a series of 25-minute rotating sessions with companies of the WBEs' choice.
Business opportunity generation skyrocketed with over 300 exhibitors for the 2023 National Conference. The Expo floor became an unparalleled opportunity for exhibitors to showcase their brand, identify potential suppliers or new purchasers, and expand their network. Not only did they create a lasting impression and generate brand awareness with corporate members and WBEs face-to-face, but they also had the opportunity to be inspired by similar businesses and speakers on the Expo floor.
Within the Expo, the Collegiate Accelerator Cohort also displayed their businesses and concepts in the Expo at the Collegiate Accelerator Showcase, brought to you by JPMorgan Chase.
That night, WBENC and the 14 RPOs decked out in signature colors took over the Gaylord Opryland Events Center to "Rep You RPO," a Women Owned Pop Up shop, and enjoy karoake, games, a 360 photo booth, screenprinting by WBE Hip Hues and much more. Much fun was had by all as we continued to celebrate the RPOs and the WBENC network.
The WBENC Expo and Meet & Greets
Day 3: The Momentum Continued!
Then, during the Thursday Luncheon General Session, WBENC also had the honor of recognizing 66 corporations with the prestigious 2023 WBENC America's Top Corporations for Women's Business Enterprises (WBEs) award, the only national award honoring corporations for world-class supplier diversity programs that reduce barriers and drive growth and opportunities for women-owned businesses. Four Corporate Members, Johnson & Johnson, PepsiCo, Target, and Vistra, were named to the America's Top Corporations for Women's Business Enterprises Hall of Fame, joining 18 Corporate Members that were previously named to the America's Top Corporations for WBEs Hall of Fame in 2022.
Last but not least, Google and The Pinnacle Group came on stage for an exciting announcement that new Women of Color programming will be focused on the Hispanic and Latina WBE community, with more details to come later in 2023.
And to wrap it all up in Nashville style, a Reception and Celebration at the Wild Horse Saloon was a rip-roaring event that attendees are still talking about. Thousands gathered at the Wildhorse Saloon to commemorate the event's success with live music, a guest appearance by country stars Chely Wright and Ty Herndon, and line dancing lessons and practice!
Even more photos from the 2023 National Conference!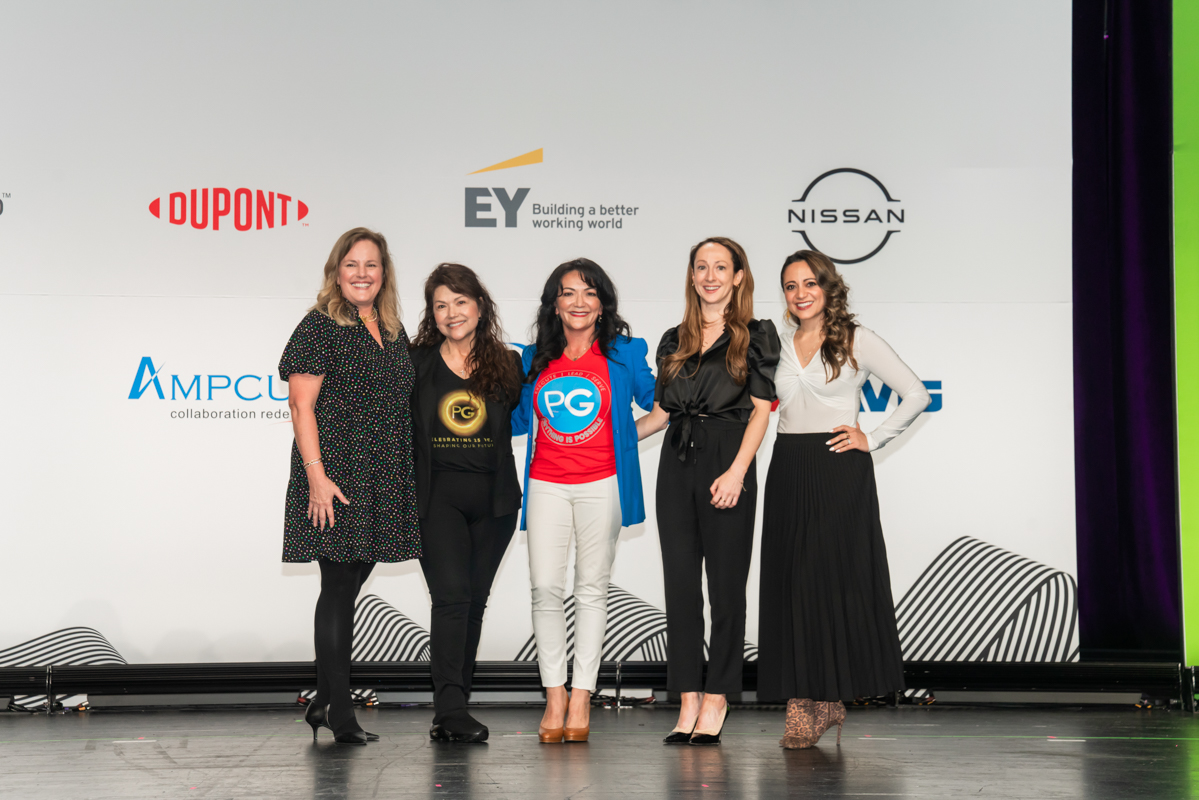 Building Momentum – Onward and Upward! Next Up – Denver, Colorado in March 2024
WBENC is already looking ahead to the 2024 WBENC Conference at the Gaylord Rockies in Denver, CO, March 19-22, 2024, with a gorgeous venue and views and with a centralized Conference Center. Many of the fan favorites from attendee feedback will be returning, but WBENC always has more innovative networking and connections ideas, and of course fun, in store.
We will be sharing more information this fall so stay tuned!